vCard Converter Add-in - Integrated Utility for Import-Export vCard!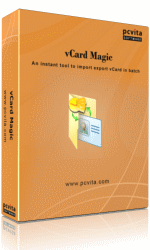 By default Microsoft® Outlook have a facility to start a single export and import Outlook contact to vCard contact (.vcf) and vice-versa. What if for a multiple contacts add-in tasks? To get rid from a singly contacts add-in bottleneck, you must require having vCard to Outlook Add-in utility. Say, Outlook to vCard Add-in in contrast i.e. PCVITA vCard Magic utility, a vCard converter. Start with the seamless utility to ends with the most significant.
Get rid of the default functionality, start multiple conversion of Outlook contacts into vCard contacts
Picking the right solution by the right vendor, PCVITA vCard Magic utility watered down the conversion barrier
Begin with vCard Converter Add-in Trial
Download the free personal license installer of vCard converter add-in to transfer vCard contacts to Outlook contacts or call it an add-in to transfer Outlook contacts to vCard, for testing and evaluation purposes, with the limitation of 5 items add-in functionality. Purchase the full version for the entire contacts add-in functionality by just $49.00 only, plus 24/7 online technical support.
Why Need vCard Converter Add-in?
Though, vCard contacts have multiple supported platforms. It often declares restraint supports into other platform. Besides, Microsoft Outlook contact can turn out contacts into vCard format in singly mode. So, the solution to water down the restraint contacts add-in in Microsoft Outlook contacts format (i.e. PST) to vCard contacts format (.VCF) immensely in bulk is vCard converter add-in utility, yes, an Outlook to vCard Add-in and contrariwise vCard to Outlook Add-in too. Now offer by just $49.00 only. For more information contact our technical assistance over 24/7 online support.
Why Download vCard Magic?
Transfer multiple vCard contacts to Microsoft Outlook 2010, 2007, 2003 and 2002 version
Transfer multiple Outlook contacts to vCard 2.1 and 3.0 contacts
Sustain the original Microsoft Outlook PST files or vCard file for backup purposes
Integrate vCard contacts and Outlook contacts flawless conversion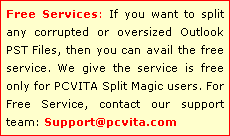 Other Recommended Tools:

PST Magic™
Cheapest tool that merge and split multiple Outlook PST file at once. Merge Multiple PST Files
Split Magic™
Splitting of large sized PST file by date, year and size is very easy with our Outlook PST Split Tool

Archive Magic™
Get it for archive Outlook Emails as well as for backup PST emails. Read More - PST Archive Tool

Outlook Magic™
Get it to exchange PST file into EML, MSG, VCF, TXT & HTML . Read More - PST Converter Tool

NAB Converter™
Convert Novell GroupWise address book to Outlook address book. Read more: NAB to PST Converter